What is contact tracing?
Contact tracing is the process of identifying people who may have come into contact with an infected individual. Public health officials can then reach out to those contacts and make sure that they follow precautions to limit further spread. Those precautions might include isolating at home.

Why is it important?
There is a delay between when someone is exposed to a virus, to when that person becomes contagious, or starts displaying symptoms. This means that people can be contagious before they know they even have a virus. They will be interacting with their friends, family and the public, all the while spreading the virus without knowing they are infecting others. Friends and family are easy to identify, but without contact tracing data it's impossible to determine all of the strangers they may have been in contact with during that infectious period ("community spread").
It's especially important for indoor dining because people tend to be in proximity of others for an extended period while they eat, increasing the chance that they've spread the virus.
BBC News: Covid test-and-trace: Is backwards contact tracing the way forward?

Where is it required?
Government and public health agencies are quickly moving to require and regulate the collection of contact information from businesses that are open to the public. The implementation of rules is often a reaction to rising cases in a community or as a precautionary measure when reopening businesses and restaurants.
Rules vary but most require, at a minimum, the collection of a date, time, name and phone number from every customer. In some cases if there is a group entering, only one member of that party needs to record their information.
Regulations may also be required to ask customers to answer health screening questions (e.g. "Are you feeling sick?") or even taking their temperature.
Some jurisdictions also ask to record a table number or seating area. This data is used to limit the number of people that need to be contacted based on proximity. If they are dining indoors, there is little need to contact people that were dining outdoors during that time.
For privacy reasons, some jurisdictions require that any information collected be stored securely, destroyed in a certain period of time (usually rule of 3 or 4 weeks) and not be used for marketing purposes.
You must contact your local authorities to understand the specific regulations in your area.

How is it done?
The standard way to collect information is a pen-and-paper logbook. Customers can either write in their own information or it can be verbally collected by a store employee. If the customer is writing down their own information, it is important to disinfect the pens and material between customers as they then become a "high touch' surface.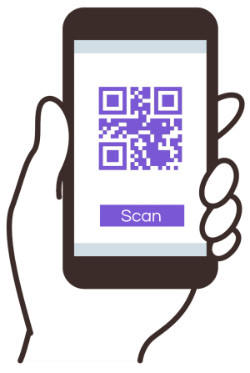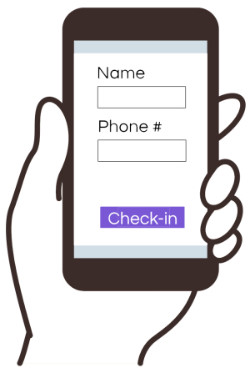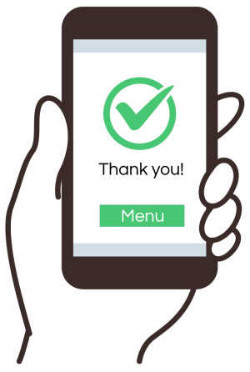 How can qr arrived help?
We offer a contactless, quick digital solution where customers can enter their own name and phone number after scanning a QR code inside the establishment. The customer is not required to install an app on their phone.
We can also prompt them to answer screening questions to comply with their local requirements.
The idea is to get customers in the door as quickly and efficiently as possible. You want to have a painless experience for your customers. You also want to avoid crowding at the door. which can occur if a line forms while everyone writes down their information in a paper log book.
We store their name and phone number on their device, so they do not have to re-enter the same information on their next visit. This feature significantly reduces the time and effort required to sign in.
Once they are signed in, your digital menu is presented, any promotions you choose are presented, and their feedback is collected.
Customers without a smartphone will need to be accommodated, so we also offer a way for you to record this information at the time of entry or later on.
All of the data is securely stored for up to 30 days and can be downloaded and presented to health officials easily on-demand.
We've made it easy for your restaurant to get started. We offer a free 30-day trial and we don't ask for a credit card upfront.